Medicinal botanical are part of Ayurveda that helps to prevent and manage Hepatitis B: Hope for cure is growing…
July 3, 2018 | Blog
Hepatitis B is a viral infection that attacks the liver and can cause both acute and chronic disease. Some 240 million people are chronically infected with hepatitis B, and about 300 million people are living unaware with viral hepatitis worldwide. In India, as per latest estimate, 40 million people are chronically infected with hepatitis B virus (HBV). The 8th world hepatitis on 28 July 2018 is a dedicated opportunity to raise aware ness of hepatitis and encouraging prevention, and treatment.
The HBV is highly contagious and is transmitted contact with the blood or the body fluid of an infected person. The hepatitis B virus can survive outside the body for at least 7 days. During this time, the virus can still cause infection if it enters the body of a person who is not protected by the vaccine. The incubation period of the hepatitis B virus is 75 days on average, but can vary from 30 to 180 days. The virus may be detected within 30 to 60 days after infection and can persist and develop into chronic hepatitis B.
Hepatitis B is preventable with currently available safe and effective medicinal botanicals. It should be noted that many plants especially Eclipta alba, Phyllanthus amarus, Cichorium intybus, Boerhaavia diffusa, Tinospora cordifolia,Tecomella undulata, Fumaria parviflora, Berberis aristata, Rheum emodi. Terminalia chebula, Plumbago zeylanica, Embelia ribes, Tephrosia purpurea, Curcuma zedoaria, Cissampelos pareira, Ipomoea turpethum, Picrorhiza kurroa, Andrographis paniculata, Ocimum sanctum, Azadirachta indica, Solanum nigrum, Tribulus terrestris, Emblica officinalis, Glycyrrhiza glabra, Rubia cordifolia are considered best medico-botanicals by ancient science i.e. Ayurveda where research have found that medicinal plants have healing capacity.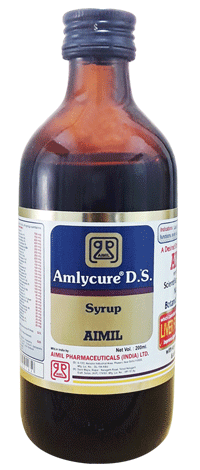 In year 1990 from Aimil Pharmaceuticals, research and development team under doctor's supervision developed the formula referred as Amlycure DS. This formula made up of the extract of more than 27 herbs in their therapeutic "desired strength". Pre-clinical studies in animals also published in Asian Journal of Biochemical and Pharmaceutical Research, 2015 revealed that the hepato-protectant herbs based Ayurvedic drug like Amlycure DS administration shall rejuvenate damaged hepatic cells. In humans, medical researchers from Banaras Hindu University (BHU) treated 50 acute viral hepatitis patients with the dose of 2 teaspoonful thrice daily for 3 weeks.
The study found that the treatment resulted in a progressive reduction in serum bilirubin, SGOT, SGPT and alkaline phosphatase and symptoms. Out of five HBsAg positive patients, one patient treated with Amlycure DS cleared the antigen. Most of the patients were relived of anorexia, nausea, vomiting, and liver tenderness at the end of 3rd week with significant side effects. The pre-clinical and the clinical study on human being suggest the Amlycure DS is safe and effective drug for the cure/ prevention of hepatitis B and can be used frequently in clinical practice tackling the spread of hepatitis B.
Thus, this World Hepatitis Day, let's take a pledge to take care of our liver.