FDA advisory for uncomplicated UTIs – What's our chance?
April 30, 2018 | Blog
FDA is going extra mile to combat the challenges like anti-microbial resistance but the real question is are we ready to face this challenge?
An Article published in Harvard Medical School website carries a FDA advisory that fluoroquinolones should not be used as a first line treatment for uncomplicated UTI. This advisory is in line with Jaipur Deceleration of WHO where anti-microbial resistance has been recognised as a serious threat to public health. This advisory becomes much more important in treating child UTI cases when there is a risk of both adverse effect such as tendonitis and early development of antimicrobial resistance.
Shortcomings
Dr. Michael O' Leary, an urologist at Harvard affiliated Brigham and women's hospital also said that overuse of antibiotics to treat UTI is a problem. This problem becomes a complication in cases of recurrent UTI where continuous low dose antibiotic therapy is adopted. We cannot also rely on this approach because a study which published in Canadian Urological Association Journal has stated that after discontinuing prophylaxis the women on which this study was done were found to revert to their previous frequency of UTI, this result can also be correlated with child UTI problems.
Our chance
Because uncomplicated child UTI are comparatively easy to cure, we stand a fair chance with Aimil Pharmaceuticals' Neeri syrup, a three decade old and trusted brand which has extracts of Berberis aristata, Hor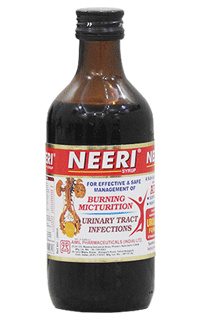 deum vulgare and many more which kills the pathogen by acting multi-dimensionally (inhibiting DNA synthesis and membranolytic activity). Neeri syrup prevents the relapse of infection as it dissolves the PAP-fimbriae of E.coli bacteria and inhibits its adhesion to the urinary bladder. Neeri syrup also acts on symptoms of child UTI and relieves burning micturition in few minutes by its alkalizing effect. Neeri syrup is completely safe in kids and in cases of complicated UTI it can be used with antibiotics as it has no drug - drug interaction. Tribulus terrestris in Neeri restores potassium content and exerts balanced diuretic effect which flushes out the bacteria. Trinpanchmool in Neeri apart from exerting antimicrobial effect also relieves dysuria, dribbling and fever to a great extent.
As FDA and WHO both are taking antibiotics resistance and its implication by scruff of the neck, it is high time we start to look for alternative for treating other diseases involving anti-biotics and should utilise the existing resources like Neeri syrup. Our 5000 years old medical science holds answer for many of such arising problems, the key here is to effectively extract that knowledge as we cannot let our coming generation inherit enemies like super bugs and leave them with an empty armoury to face those enemies.