International Arogya 2017- Standardization and Quality Control in AYUSH Sector
December 5, 2017 | Events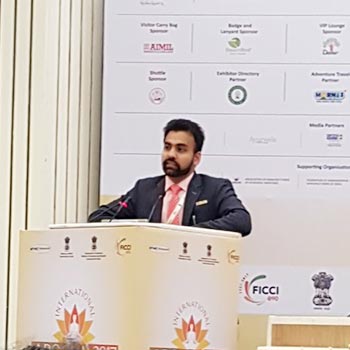 Ministry of AYUSH, along with Department of Commerce, Ministry of Commerce & Industry, Federation of Indian Chambers of Commerce and Industry & Pharmexcil organized 1st international Arogya 2017 enhancing the global potential of Ayush and wellness on 4-7 December 2017 Vigyan Bhawan, New Delhi. The international exhibition and conference enable multiple manufacturer to discuss on changes that are considered necessary for standardization, Quality control and consumer safety in Ayush sector. The main objective of the International exhibition and conference was to showcase strength and scientific validation of Indian system of medicine in global context.
The conference further discusses the challenges and issues as well as some possible solutions through plenary sessions.
Plenary Session I: Business Opportunities in Integrative Healthcare
Plenary Session II: Building a Brand Strategy: Healing Power of AYUSH for the World
Plenary Session III: International Regulators Meet
Plenary Session IV: Standardization and Quality Control in AYUSH sector
The plenary talk in session 4 chaired by Dr. Ravi P. Singh, Secretary General, Quality Council of India and Dr. M B Shankar, Joint Director, Pharmacopoeia Commission for Indian Medicine & Homoeopathy to overview the issue pertaining to Standardization and Quality Control in AYUSH sector. Mr. Sanchit Sharma, Executive Director of Aimil Pharmaceuticals (I) Ltd. highlighted the predominace of mycotoxin and the extent of fungal ochratoxins and aflatoxins contamination in medicinal plants as a global concern for safety, human health and their management. He said that the most of the farmers had not adopted the harvest and post-harvest management practices. He gave new dimension to the discussion by asking about following WHO - GMP from the very first stage of manufacturing i.e. Standardization scope of Raw material. Many Ayurvedic companies, skip this vital step due to tedious process, cost cutting measure & to fasten output. Only few companies like Aimil Pharmaceuticals (I) Ltd. are trying to develop SOPs like effective washing & ozonolysis to get rid of pesticides residue and other toxins.
As Ministry of AYUSH is eyeing to increase export of Ayurveda products by three folds by 2020, it's high time that industries rather than brushing challenges under the carpet stand to the occasion and answer the tough questions