Loosening the Grip of Joint Pain
November 4, 2017 | Blog
Winters save patients from majority of infections but they do bring havoc for patients suffering from joint disorders. Morning stiffness, frozen joints and other symptoms of Rheumatoid Arthritis and Osteoarthritis become a common sight at ortho clinics.
While Exercise, NSAIDs and DMARDs are mainstay of treatment but challenges arise in case of geriatric and patients with hepatic and renal insufficiencies. With new researches surfacing up - Herbal drugs may seem to have a vote to compliment the main line of treatment.
A study published in International Journal of Immunopathology and Pharmacology puts weight behind the claim for a large-scale evaluation of the utility of Tinospora cordifolia and its component as therapeutic adjunct to conventional drugs against Rheumatoid Arthritis. In this experimental study it was found that -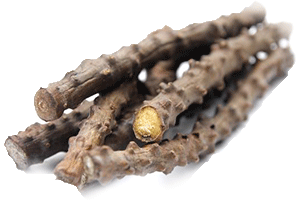 Tinospora cordifolia extract (TCE) treatment suppressed arthritic inflammation and bone and cartilage damage.
The anti-inflammatory effect of TCE was mediated by reduction of pro - inflammatory cytokines such as IL-1β, TNF - α, IL - 6 & IL - 17
TCE treatment limited bone damage by shifting the balance of mediators of bone remodelling (RANKL & MMP - 9) in favour of anti - osteoclastic activity.
Based on such indicative evidences, new doors are opening in favour of patients. By combining herbal drug with existing therapy patients' remission period could be elongated.
Tinospora cordifolia along with Zingiber officinalis, Curcuma longa, Vitex negundo, Colchicum leuteum are main constituents of Muscalt Forte Syrup which adopts a holistic approach in the management of Rheumatoid Arthritis and Osteoarthritis.