Launching 2 New Brands
June 5, 2018 | Events
We're thrilled to be emailing you today with some big news – Our brand family just got BIGGER! Our whole team is celebrating the launch of two new brands viz. K.G.Tone Forte, a kid's growth tonic & Boniheal, a complete phytomineral bone therapy. Both brands are in line with our philosophy of Safety, Efficacy & Quality. Both new brands have been developed with extensive scientific work and in the product development we have inculcated all the feedback you have given to us over the years of our strong relationship - A big Thank You for that. Now let's unveil the two new members.
K.G.Tone Forte
"Helps in Kids Growth Naturally"
K.G tone Forte, India's FIRST paraben free kids growth tonic for utmost safety, contains juices & extracts of scientifically proven mix of nature's quality herbs, providing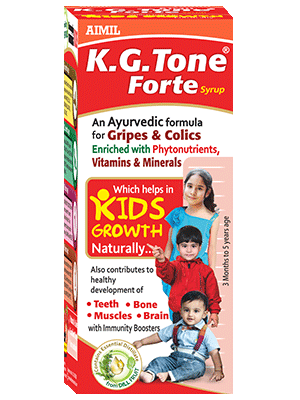 essential nutrients which nourishes the growing children and simultaneously boosts immunity. It is completely safe due to absence of artificial colours & sweeteners.
K.G Tone Forte supplements essential micronutrients for healthy growth & functioning of digestive system, bones & muscles and brain. It exerts digestive stimulant, carminative, anti-flatulent, antispasmodic and analgesic action. It helps to relieve the gastric smooth muscle spasm associated with colic in infants.
Indications
Loss of Appetite, Gripes & colics, Indigestion, Flatulence, Teething trouble, Constipation
Presentation:
Syrup: Pilferage proof sealed bottles of 100 ml.
Boniheal
"​ A complete Phytomineral Bone Therapy"
Boniheal has been scientifically developed on the basis of very latest research to supplement natural calcium in four active forms (calcium sulphate, calcium silicate, calcium oxide and calcium carbonate) enriched with Vitamin D & K from natural sources. Provides pro-bone minerals & nutrients (e.g Magnesium, Zinc, B, Si) & vital botanical extracts which contribute to the maintenance of bone health. Boniheal increases the fracture healing by influencing regeneration of connective tissues of mesenchymal origin. Boniheal supplements phytoestrogens, exerting estrogen like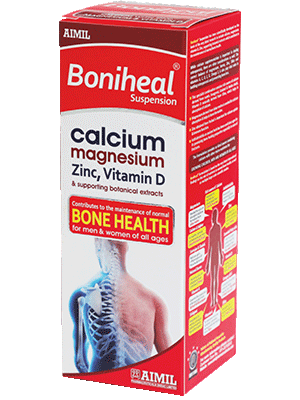 effects in bone, which reduces bone loss and increases bone strength.
Boniheal promotes bone remineralization, fastens fracture healing, promotes calcification of bones by supplementing calcium in bioavailable form, maintains skeletal integrity and bone health, helps to attain peak bone mass. Supplements phytoestrogen, increases bone strength thereby, prevent deteriorative changes in bones. Thus, Boniheal reduces bone loss & increases
bone strength.
Indications
Fractured bone,Osteoporosis/ Osteopenia, Delayed bone growth, Bone mineral deficiency
Presentation:
Suspension: Pilferage proof sealed glass bottle of 200 ml.
With these two new brands we are making stronger our commitment towards health for all. We hence request you to support us in this endeavour and may our journey achieve new milestones every year.