Quench the rebellion of 'Nutritional Deficiency': Multivitamins
September 1, 2017 | Blog
The true toll of nutritional deficiency lies hidden in the statistics of reduced school performances, maternal heamorrhage, and lower productivity of an individual & in many more such devastating day to day scenarios. With lack of balanced diet, ever diminishing health of food that we take these days, no wonder we would end up with one or more nutrient deficiency as the food we take is as good as the soil it's grown in.
Further, adding stress, medication & lifestyle diseases and we have best recipe to nutrition scarcity leading to nutritional deficiencies and disorders. Most widespread nutritional disorder in the world is nutritional deficit anemia for which children & women of child bearing age are most vulnerable. "National Family Health Survey" statistics reveals that every second women is anemic and one in every five maternal deaths is credited to anemic condition. Among the nutrition factors contributing to anemia, the most common one is iron deficiency which is prevalently due to a diet which is monotonous, but rich in phytates considered to be inhibiting the absorption of iron by the body.
PROGNOSIS AND PREVENTION
Nutritional deficiencies affects body differently & are sneaky. One may get false impression about being fit unless an individual is deficient for some time and has physical manifestations of nutrient deficiencies.
Symptoms:
General fatigue
Weakness
Pale skin
Shortness of breath

Dizziness
Tingling/crawling feeling in the legs
Tongue swelling & soreness
Cold hands & feet
Brittle nail & cuticle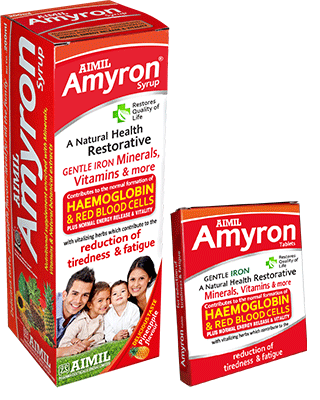 To save oneself from anemia: common & curable condition, an individual must be vigilant about his/her food intake as well as presence of symptoms. One simplest way to prevent this deficiency is to include 'Multivitamins' into routine. A plethora of experimental controlled studies – which are a gold standard for proving the cause and effect – over the last few years have found positive outcomes about the usage of 'Multivitamins'. Usage of multivitamin is more beneficial than using a 'mono' therapy of any individual supplement because single vitamin or nutrient is best suited to specific nutrient deficiency.  Also, micro-nutrients and mineral have their own cycle of absorption in our body and presence of other is in most cases found to be beneficial.
A NATURAL ALTERNATIVE TO MULTIVITAMIN
Vitamins and minerals obtained through natural sources are pretty much safe and easily absorbable. These are usually the ones contained in health foods, food supplements and regular dietary spices and herbs used which you need not to be worried about. Such organic alternatives of vitamins are tends to be comparatively safer as they are easily acceptable by the body and are reportedly have less or negligible adversities on body in any way. To rely on the usage of multivitamins obtained from natural sources, usage of those herbs, food items since existence of mankind is another justification itself. Whether you choose a nutrient rich food, alternative diet supplement or multivitamin – incurring all the nutrition your body need fulfillment is the only key to total body wellness.